Dear Ana and all my colleagues at EOI Estepona,
What an amazing and life-changing experience these past eight months have been! I have grown and learnt so much, and most importantly, I have realised even further my passion for teaching. I have enjoyed this school year so much and have no doubts that this is the career path I wish to pursue. Not to mention that this has been the most rewarding job that I've ever had, which is largely due in part to the amazing support from yourself and all the staff at EOI.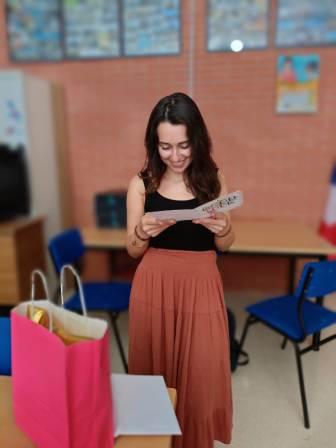 I honestly had no idea what to expect before arriving in Estepona and as a result, I had little to no expectations, just an open and curious mind ready to experience what was awaiting me on the other side. At the end of eight months, I can say that the bar has been set very high for my next position as an auxiliar.
If I were to describe this experience to your next auxiliar, I would tell them that Estepona is a lovely little town with everything that you need, and friendly people who want to speak with you at every opportunity that they have. It creates a community-sense, and you won't feel lonely despite possibly being far from family and friends. I would also tell them that they will receive an immense amount of support and kindness from the school and that the close-knit staff will help them with anything that they need. Having enthusiastic, warm, and friendly students has definitely added to the experience. I am excited for your next auxiliar to experience the warmth and kindness from yourself, the staff, and the students.
Even though it's time to move on and experience more that the world has to offer, I will forever cherish this year as the year that I was able to develop myself as a teacher, immerse myself culturally into Andalucía, realise the importance of learning another language (I have really enjoyed improving my Spanish), and create strong ties with people in this school and community.
Thank you for everything Ana and I wish you and everyone the absolute very best.
Sincerely,
Courtney